Summer time blues
2009年 07月 01日
hot
So nice weather. Wanna go to the beach.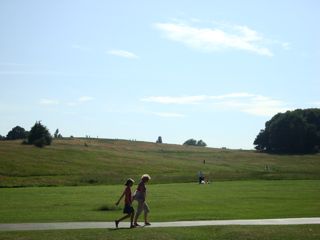 Long time ago when I was in Japan,I was gonna go for a drink with my
friend one sunny Saturday evening,we met up at a bookshop.Since
both of us like books,we were wandering around the shop for a while
and flicked through some magazines,then suddenly came up with the
idea of going to the beach. Since both of us are fun-loving,we were so
excited about the impulsive idea,running to a station,jumping on a
train,heading for the beach in the next moment.
When we got to the beach,it had been already dark,so we found a
cheap hotel to stay in.I don't remember what we did after that
actually,but the next day was another beautiful day and we were so
happy to be in the beach. That is one of my fun youth memories.
When I was younger,the beach was somewhere I'm desperate for
going occasionally.I don't know why but I just liked it so much. And
now I like going into forest more(well maybe it's because I'm in England
now). Beach is wide and open,forest is long and deep.
But on such a beautiful sunny day,I nostalgically remember the days
when I simply adored the beach.