I went to see the film 'Into the wild' which is directed by Sean Penn,
based on the non-fiction novel called "Into the wild" by John Krakauer,
which is about a young promising American guy named Christopher
McCandless who just graduated from university in Atlanta and decided to
travel through the states on his own,heading for Alaska by hitchhike.
He was strongly against the material world so that he donated all his
money to charity and threw everything away such as car,social security
number(ID)and even his name and parents as well since he hated them.
Then,literally he went into the wild.
That's really amazing story.He was such a genuine guy,
tried to pursue his own way.However,the wild is the wild.
We are too emotional and not strong enough to be in the wild actually.
We are human beings that pursue evolution.
What we should do is,in my opinion,to consider the way of evolution,
not to take to the wild.
"Happiness is only real when shared"
I've been so annoyed with never-ending spam mails/comments from
creepy anonymous people that I decided to delete the comment
function for the time being.
Thank you all who's given me comments sometimes,
I always enjoyed reading them and was really encouraged.
Maybe someday,I put it back.
Looking forward to hearing your voice some time in the future again!
x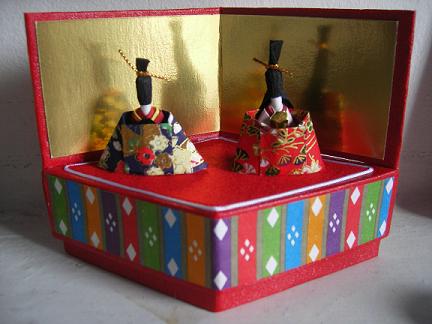 Hi there,how are you?
It's been ages.........Even should I say "Happy new year!"actually.
I'm OK,but not so happy to be honest as I have a lot of things to think
about now.Hmmm,maybe it's time to face things that I've left behind -
After all,we can never run away from the things we've left behind,can we?
No matter how I gain a lot of experiences/get old/become clever etc.,
I end up being stuck with the same problem unless I sort it out clearly.
Well,we will see.
By the way,we have a girl's celebration day on the 3rd of March in Japan.
The photo above is the ornament which we display on that day,called
"Hinakazari"(They are originally prince and princess, now are
representative of man and woman).It's a simplified version actually,
friend of mine sent it to me from Japan.Lovely ,aren't they?