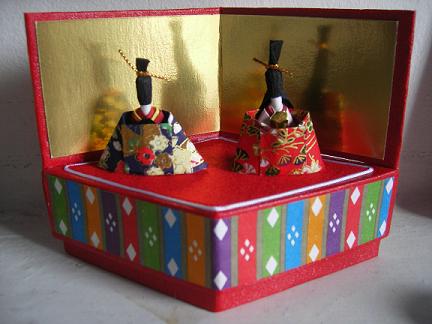 Hi there,how are you?
It's been ages.........Even should I say "Happy new year!"actually.
I'm OK,but not so happy to be honest as I have a lot of things to think
about now.Hmmm,maybe it's time to face things that I've left behind -
After all,we can never run away from the things we've left behind,can we?
No matter how I gain a lot of experiences/get old/become clever etc.,
I end up being stuck with the same problem unless I sort it out clearly.
Well,we will see.
By the way,we have a girl's celebration day on the 3rd of March in Japan.
The photo above is the ornament which we display on that day,called
"Hinakazari"(They are originally prince and princess, now are
representative of man and woman).It's a simplified version actually,
friend of mine sent it to me from Japan.Lovely ,aren't they?